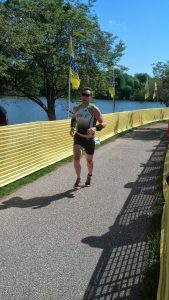 Nick P. Opens The 2014 Season With A Stellar Performance!
Nick first contacted Tri TMI Coaching after the 2013 season. It was his first year racing triathlon and he admitted to feeling lost on nearly every levels. While his cycling background is strong, which kept him in the hunt in 2013, he knew he needed help with nearly everything triathlon.
Nick's goals are big and Tri TMI is helping to get him there. In 2014, in addition to being competitive on short course (i.e. Spring and Olympic distance tri's), Nick plans to race his first Half-Ironman and maybe a full IM in 2015. In order to do that we need to train Nick's body to be a fat-burning machine.
Nick has the advantage of starting his formal training early. We set Nick up on a 12-week Base Training program from Oct-Dec 2013. We taught Nick's body how to use fat as its primary fuel source. Plus, Nick became much more mentally strong and learned how to listen to his body. Finally, we primed Nick's body – muscles, ligaments and tendons, so they were ready for the higher intensity training to come.
From Jan-May 2014 we've been gradually increasing the volume and intensity of Nick's workouts. We're dialing in his nutrition and hydration in and outside of training. Nick has been feeling stronger every week and getting faster too, with less effort. That means he's also more efficient and not having any of the classic bonking, hitting-the-wall or GI issues that plague so many athletes. Not to mention staying injury-free.
With a hectic personal schedule of traveling and moving, Nick stayed the course and kept to the schedule as best he could. We all know how life has a way of throwing you a curveball and we adjusted his training to fit.
Finally, Nick reached his first race of 2014 and crushed it! Granted, the swim of the Columbia Triathlon 2014 was canceled due to dirty water, but the day was perfect for the bike and run. Nick's swimming has improved tremendously from hating the water to loving it now but unfortunately he'll have to wait until his next race to show his gains.
In the end, Nick increased his average bike speed by nearly 2 mph from 19.3 to 21.24 mph over the 25 mile course. Then, he dropped his run pace by 16 seconds per mile over the 10K. For those of you who aren't as familiar with triathlon, biking or running, these are incredible gains for a single season. And we are so proud of Nick for his dedication to and effort in his training.
To put it into perspective, I've always said that increasing your average bike pace by 0.5 mph is like dropping 30 sec/mi in a 10K run. If you're a runner, you know how incredibly hard that is when you're already doing your best. Nick gained 2 mph which is like dropping 2 min/mi off a 10K pace. Imagine if you're an 8:00 min/mi runner and now you're running a 6:00 min/mi pace for your 10K. That's a whole different world! Congrats Nick!
Then, while increasing his bike speed dramatically, Nick still managed to drop 16 sec/mi off his 10K run pace. Another incredible gain in just the off-season. How many of you would be happy just to run your 10K 1:36 faster? I know I would!
Finally, one of Nick's greatest improvements was how he felt after the race. Last year, he could barely speak he was so beat up by the race. This year, while obviously tired, he felt great, had high spirits and was his normal self. Again, anyone who has ever had a tough race knows that mood, appetite, frame-of-mind and anything else can quickly go downhill when your body was pushed beyond its limits. Nick was on Cloud 9!
Nick and Tri TMI will continue to work together in 2014 to help him reach his triathlon goals and with hard work and a little luck, he may just get that podium spot this year.
Congrats again Nick! You earned it!
Coach Kevin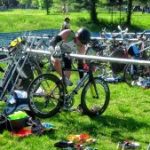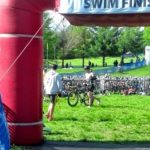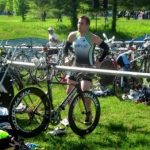 A REAL CONFIDENCE BOOST!
"After a lot of thought, I feel like I'm in a much better place. I can workout 6 times a week and know what to expect, know how to deal with that stress and workload and not get burned out… before I wouldn't even be comfortable with 3… and even more recently I've been able to push it super hard on those days and STILL work out 6 times a week. All the training I've done has made me faster, but more importantly, made me more confident in my athletic abilities and my body… I know what to expect at a race because it's just another workout I've done so many times, I know what I need to eat, I know how much water to drink, I know how to be the fastest I can without burning out or pushing to hard to burnout too quick… it's really put me in a good spot to now put on the muscle and strength to REALLY push it and get really quick… I think I'm in an awesome place for that, one I definitely never thought I'd ever be in, and now I can utilize it to be where I truly want to be."
Nick P.